Greenhouse Kit
INCLUDED
• Modular panels (10-16 depending on size)
• Metal trim
• Hardware and fasteners
• Assembly guide
EXTRAS
• Foundation kits
• Foundation anchors
• Cedar shelves
• Professional installation
FOUNDATION
Not included in the kit. We recommend rot-resistant material such as concrete or treated wood that has been anchored to the ground.
Modular Assembly
The light weight panels can be erected on rigid foundation in a few hours by you and friends. They are labeled and can be quickly matched with the corresponding pieces, allowing for simple construction of your greenhouse.
Every greenhouse is completely assembled in our factory to make sure every piece fits properly. The kit is then packaged and delivered to your door.
You are able to order now and have delivery in the spring!

Engineering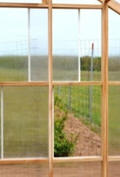 WIND
If properly secured to the foundation, your greenhouse won't shift in the wind. Windows are set on slides so they easily adjust and won't blow off.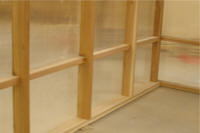 SNOW
The Snow Country Greenhouse is designed to support snow on the roof. Special wood supports, called girts, stop snow from pushing in the side panels.
Leave your Snow Country Greenhouse up all year round!
Materials
We have chosen the highest quality materials to create a durable, long lasting greenhouse.
WESTERN CEDAR FRAMING

Rot resistant

Strong

No need to be sealed

Renewable




POLYCARBONATE
COVERING

Twin wall 8 MM thick

High R-Value

10 Year Warranty for light transition

UV resistant coating

"Drip guard" coating inside

METAL TRIM

Maintenance Free
Impact resistant

FASTENERS and HARDWARE

Galvanized or Stainless Steel
All included in your Package